Giovanni Mirabassi/Sarah Lancman - Intermezzo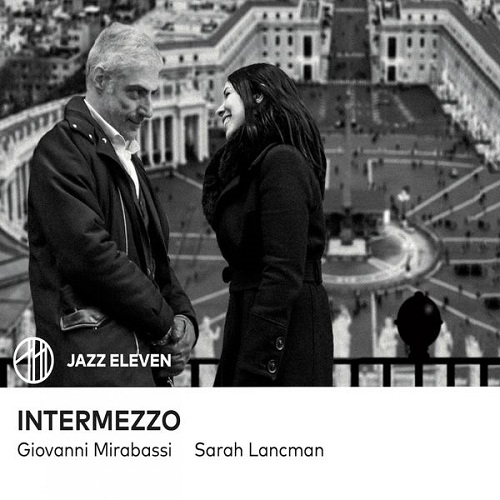 G
Jazz Eleven
Natif de Pérouse, Giovanni Mirabassi, frère du clarinettiste Gabriele Mirabassi, s'est installé à Paris dès l'âge de 22 ans.
Il a joué avec Chet et Stefano Di Battista, formé un trio avec Flavio Boltro (tp) et Glenn Ferris (tb) qui a enregistré l'album Air, a aussi gravé un Tribute to Bill très révélateur et pas mal d'albums solo (Avanti! puis Adelante! dédiés à des chants révolutionnaires, mais aussi Cantopiano dédié à la chanson).
Depuis 2015, poussé par cette passion pour le chant, il accompagne Sarah Lancman, jeune chanteuse et pianiste née à Paris. Après avoir enregistré Dark, des textes de Nick Drake et de grands standards, puis Inspiring Love en 2016, Sarah Lancman a enregistré A Contretemps avec le pianiste d'origine italienne. Les voici réunis pour Intermezzo, un album dédié, en grande parie à la canzonetta italiana.
En invité sur 4 plages, le saxophoniste alto Olivier Bogé qui a notamment enregistré The world begins today avec le pianiste Tigran Hamasyan: un alto, à la voix suave, qui chante réellement la mélodie.



Au répertoire, Estate de Bruno Martino, une mélodie charmeuse qui a beaucoup inspiré Chet; Ah, che sará, che sará de Chico Buarque (le Tu verras, tu verras de Claude Nougaro, le Toulousain célébré par Mirabassi dans Cantopiano) et surtout de grands succès de la chanson italienne signés par le Romain Sergio Caputo (Sabato italiano), Gino Paoli (Senza fine) ou Bruno Lauzi (Il poeta, Almeno tu nell'universo). Quand Sarah Lancman se lance dans Vedrai, vedrai de Luigi Tenco, le candidat malheureux de San Remo (il s'est suicidé après ce qui lui apparaissait comme un échec, malgré le soutien de Dalida), on ne peut s'empêcher de penser à Tiziana Ghiglioni et son Canta Luigi Tenco, gravé avec Paolo Fresu, Gianluigi Trovesi et Umberto Petrin (un chef d'œuvre de lyrisme mélodique).
Pour les amoureux de la langue italienne, la plus chantante qui soit, le livret comprend les paroles de ces chansons bourrées d'émotion.
© Claude Loxhay