Fumi Tomita - The Elephant Vanishes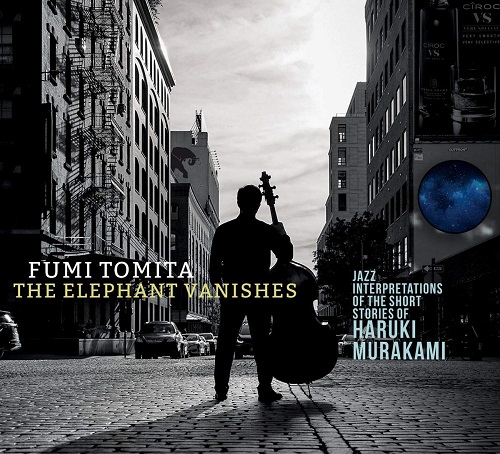 F
OA2 Records
De Japanse schrijver en ooit jazzclubeigenaar Haruki Murakami is een bron van inspiratie voor menig jazzmuzikant.
Bassist Fumi Tomita ontdekte Murakami als Aziatisch schrijver met sterke Westerse invloeden (het is bekend dat Murakami vertaler was van belangrijke Amerikaanse schrijvers). In dit album laat Tomati zich inspireren op de kortverhalen zoals The Elephant Vanishes om de bizarre en magisch-realistische wereld ervan om te zetten in muzikale impressies. Thema's als melancholie, verlangen, vereenzaming, wanhoop, mislukking vormen de bron van elk muzikaal verhaal.
Het openingsnummer Wind-Up Bird and Tuesday's Women roept Rossini's La Gazza Ladra op terwijl het hoofdthema op Miles' Solar is gebaseerd en in de achtergrond de vogels aan het eind van de pianosolo te horen zijn.
In een soort driedelige suite mengt bassist Tomati een stukje van John Lewis' Django maar in de ontwikkeling van de stukken liet hij bewust ruimte voor de medespelers om zelf te improviseren.
Hij rekent daarbij op zijn vertrouwde sidemen Mike Baggetta en Jason Rigby (Mark Giuliana Quartet) en landgenoot Art Hirahara die een eigen album Central Line uitbracht met Linda Oh, Rudy Royston en Donny McCaslin. Drummer Mark Micklethwaite haalde zijn master aan het Manhattan School of Music en is momenteel coördinator voor trompettist Dave Douglas en diens label Greenleaf Music.
The Elephant Vanishes is een swingend real jazz album vol spelplezier met pittige uithalen in de interactie. Afspelen terwijl je Murakami's 'Kafka op het strand' leest deze zomer!
© Bernard Lefèvre




Musici:
Jason Rigby (sax)
Mike Baggetta (gitaar)
Art Hirahara (piano)
Fumi Tomita (bas)
Mark Micklethwaite (drums)