Francesca Gaza - Lilac For People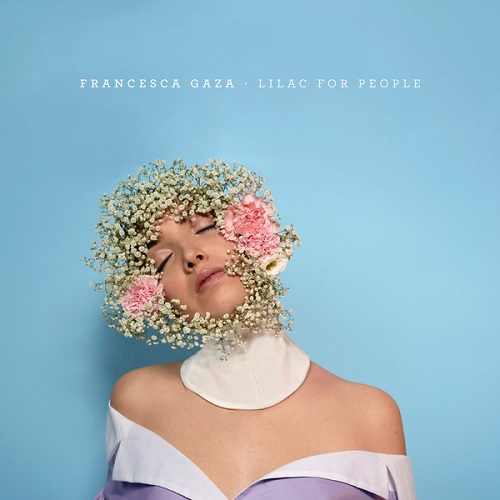 F
Auand, 2019
Het jaarlijkse Jazzahead! congres in Bremen geeft de jazzprofessional voldoende inspiratie om de rest van het jaar mee door te brengen. Journalisten ontmoeten musici, eigenaars van platforms, platenbazen en mede- journalisten. En daarnaast worden de professionals overspoeld met ongekende hoeveelheden muziek in de vorm van geluidsdragers en live optredens.
Ondergetekende ontmoette er afgelopen jaar de eigenaar/ directeur van het Italiaanse label Auand, Marco Valente. Valente duwde me verschillende cd's in de hand. Een ervan was Lilac For People, het debuut van de afwisselend in Italië en Zwitserland wonende zangeres, componist en arrangeur Francesca Gaza.
Het album is ingedeeld in de seizoenen en geïnspireerd door de mythe van Demetra en Persephone, en opent met een van de twee zomernummers, Strange Poet. Het nummer begint met een vrolijke ringtone. De zangeres neemt ons vervolgens in woord en melodie mee in haar lichtvoetige realiteit; "I hum melodies in noisy crowds and don't notice when someone's around."

We luisteren naar een delicaat verteld muzikaal sprookje, een vertelling die nauw verwant is aan  het daaropvolgende lentenummer Almond Tree. Tekstueel gezien een repetitief gebeuren, maar op het muzikale vlak gebeurt er nog al wat. Gaza, haar blazers- en  ritmesectie klimmen de boom in en dat levert kleurrijke taferelen op. De zangeres vereenzelvigt zich op een bewonderenswaardige wijze met haar ensemble en zo wordt de tekst onlosmakelijk verbonden met de muziek.

En deze innige connectie tussen tekst en muziek horen we eveneens terug op het daaropvolgende zomernummer Red Box. Zoals de titel doet vermoeden staat hier de kleur centraal. "Lucky to find that grey can be turned into light blue." Ook hier weer prachtige blazerspartijen, die op indrukwekkende wijze samensmelten met de zangpartij.

Het (bijna) titelnummer Lilac biedt ons in een notendop alles wat we afzonderlijk in de voorgaande nummers al eens hebben gehoord. En op een album dat nog geen veertig minuten duurt is dat geen overbodige luxe.
In acht nummers worden we blootgesteld aan voldoende thema's en verhalen om een complete opera mee te vullen.

Aan het einde van het album doet de winter zijn intrede. Gaza sluit het album af met I have heard, een intiem afscheidsduet met de pianist. Wie goed luistert hoort dat in de finale de overige leden van het ensemble stilletjes mee neuriën op de tekst "Hearts won't sleep. They have songs to keep." Een prachtige tekst voor een visitekaartje. Valente mag zichzelf in zijn handen knijpen met deze aanwinst.
© Robin Arends




Musici:
Francesca Gaza - zang, compositie en arrangementen
Jacopo Fagioli - trompet, bugel
Francesco Panconesi - tenorsax
Federico D'Angelo - baritonsax, basklarinet
Lorenzo Pellegrini - gitaar
Luca Sguera - piano, Fender Rhodes
Alessandro Mazzieri - bas, electronica
Mattia Galeotti - slagwerk

Geproduceerd door Andrea Lombardini
Gemasterd door Federico Pelle in de Basement Studio in Vicenza (It)
Gemixed door Antonio Nappo in Studio Q (Milaan)