François Bernat Quartet - Hommage à la musique de Miles Davis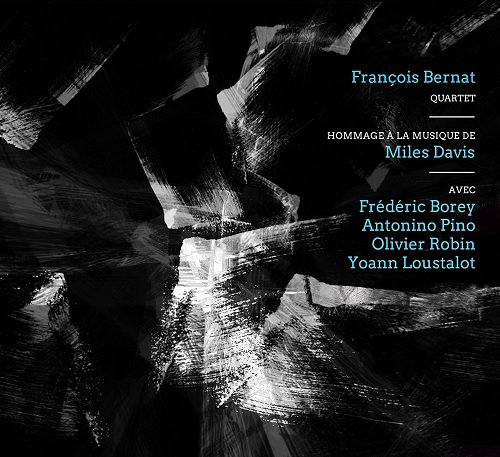 F
www.françoisbernat.com
feat. Frédéric Borey et Yoann Loustalot
Le contrebassiste François Bernat est né à Bordeaux en 1978 et a rejoint Paris en 2005. Il a suivi les cours du Centre des Musiques Didier Lockwood et a croisé des saxophonistes comme Rick Margitza ou Alban Darche. Il organise régulièrement les sessions jazz de la Péniche Le Marcounet à Paris où il a pu croiser le guitariste Antonino Pino. Suisse d'origine, celui-ci a d'abord étudié au Conservatoire de Lausanne avant de gagner, lui aussi, le Centre des Musiques Didier Lockwood où il a suivi les cours de Pierre Perchaud.
A la batterie, Olivier Robin, musicien très souvent sollicité qui a formé son propre quintet (albums Dream Time et Jungle Box) et monté le spectacle A Love Supreme.
Enfin, au saxophone ténor, un musicien bien connu du public belge, Frédéric Borey, fondateur du quartet Lucky Dog (Live at the Jacques Pelzer Jazz Club) avec son complice le trompettiste Yoann Loustalot qui est invité ici sur trois plages (Iris, Deception, Madness).
Dans cet album personnel, à l'image de Joe Henderson sur l'album So near, so far, avec John Scofield, François Bernat rend hommage à Miles. Celui de la période acoustique, depuis sa découverte avec Charlie Parker (Milestones de 1947), Tadd Dameron (Tadd's Delight) ou Jackie Mc Lean (Little Melonae de 1958) jusqu'au quintet avec Wayne Shorter et Herbie Hancock (Iris de Shorter et Madness de Hancock), en passant par la collaboration fructueuse avec Gil Evans (Miles ahead) et ce mythique Blue in Green composé avec Bill Evans (album Kind of blue).
Bernat a réuni autour de lui un vrai quartet au sein duquel chacun devient soliste à son tour: par exemple, Frédéric Borey sur Milestones, Antonino Pino sur Miles ahead ou Little Melonae, Olivier Robin sur But not for me dont le tempo s'enflamme petit à petit, belle intro de contrebasse solo sur But not for me.
Bernat a su également varier les atmosphères: thèmes résolument bop comme Milestones ou Tadd's Delight avec un Olivier Robin fougueux, Boplicity avec un  bel unisson ténor-guitare; ballades avec sonorité veloutée du ténor (Miles ahead, Blue in green, une des plus belles mélodies) et tempos  fiévreux (Little Melonae, Deception ou Madness avec beaux échanges entre trompette et ténor).
Un album qui comblera tous les amoureux de la grande tradition.
© Claude Loxhay