Frédéric Borey - Butterflies Trio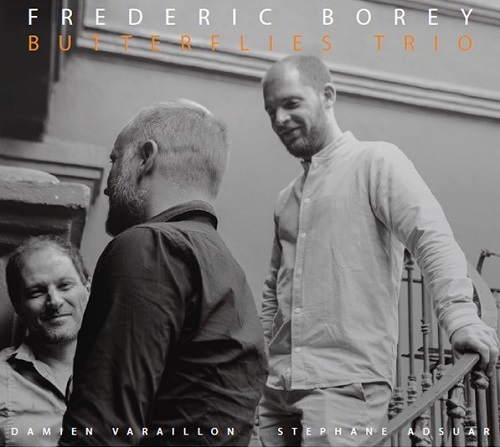 F
Fresh Sound New Talent
Saxophoniste très actif de la scène française, Frédéric Borey est un musicien qu'on a déjà eu plusieurs fois l'occasion d'apprécier en Belgique. L'enregistrement de « Lucky Dog Live at the Jacques Pelzer's Jazz Club » reste encore dans les mémoires de ceux qui ont assisté au concert, mais aussi de ceux qui se sont procurés ce superbe disque auréolé d'un « CHOC » dans le magazine « JAZZMAN ». On se rappelle aussi du très bel opus « Wink » ou de « Unitrio » déjà chroniqués ici même.
Avec le « Butterflies Trio », le saxophoniste utilise une formule qui lui est chère et qui lui convient à merveille, celle de la formation « pianoless ». Sa belle sonorité suave et tendre fait penser à Joe Henderson dans sa période « State of The Tenor », les enregistrements « Live at the Village Vanguard » avec Ron Carter et Al Foster dont le jeu tout en souplesse colle également aux peaux de Stéphane Adsuar. Pour ce trio, Frédéric Borey a choisi une rythmique à la cohésion sans faille, très demandée actuellement puisque déjà présente aux côtés de Magic Malik, Yaron Herman, Bojan Z, Logan Richardson et bien d'autres : Stéphane Adsuar à la batterie et Damien Varaillon à la contrebasse.
L'album se présente comme un diptyque avec un premier volet consacré aux compositions du trio : huit du leader et  deux pièces du batteur. Le second rassemble sept standards, « ellingtoniens » pour trois d'entre eux : « The Single Petal of A Rose » et « Black Beauty » du Duke et « A Flower Is a Lovesome Thing » de Billy Strayhorn.  « Mr Sandman » de Pat Ballard  immortalisé par « The Chordettes » introduit le deuxième volet du disque sur les fines caresses des balais  du batteur, et c'est avec la même délicatesse qu'est enchainé « The Single Petal of Rose » ; « Mahjong » de l'album « Juju » de Wayne Shorter au tempo plus enlevé permet à Stéphane Adsuar de tricoter un jeu de batterie tout en souplesse et invention. Le thème de Stayhorn s'étend en douceur sur sept minutes dont profite Damien Varaillon pour distiller un solo d'une grande finesse.
Finesse est le mot qui revient à l'esprit tout au long de cette double galette trempée dans une tradition cool jazz dont on se délecte de bout en bout.
© Jean-Pierre Goffin