Frédéric Borey - Butterflies Trio (CL)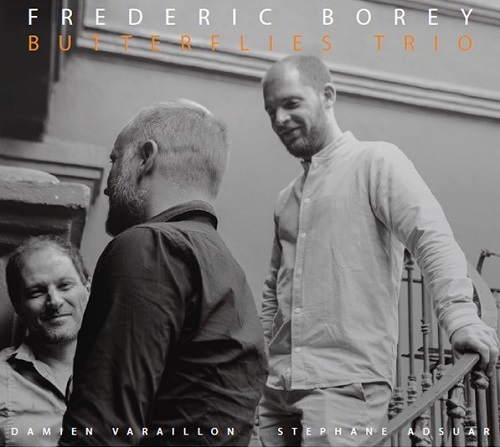 F
Fresh Sound New Talent
Après avoir donné, au Jacques Pelzer Jazz Club, plusieurs concerts au sein de Lucky Dog, en compagnie du trompettiste Yoann Loustalot et y avoir enregistré un album (Live at Jacques Pelzer Jazz Club pour Fresh Sound également), le saxophoniste ténor français Frédéric Borey était venu présenter son Butterflies Trio, en février de cette année. 
A ses côtés, Damien Varaillon qui a étudié la contrebasse classique au Conservatoire de Marseille puis jazz au Conservatoire de Paris. Cette double formation lui a permis de jouer dans des contextes très différents: opéra de Marseille, Big Band Red Star Orchestra, Chamber Metropolitan Trio de Matthieu Roffé (album Tempus fugit), quartet de Nicolas Folmer ou de Matteo Pastorino (Suite for Modigliani) et enregistrements avec les violonistes Debora Seffer et Fiona Monbet. Un contrebassiste que les fidèles du Thier à Liège connaissent bien.
A la batterie, Stéphane Adsuar qui a d'abord étudié au Conservatoire de Nicce avant de gagner le Berklee College et les Etats-Unis où il côtoie Terri Lyne Carrington. De retour à Paris, il a joué avec l'Espagnol Perico Sambeat, le Britannique Logan Richardson ou le pianiste français Vincent Bourgeyx.
Après une cinquantaine de concerts donnés à travers la France, la Belgique, les pays baltes et le Mexique, histoire de rôder le répertoire, voici que sort un double album de ce Butterflies Trio: un premier cédé consacré à des compositions originales, huit de Fred Borey, deux de Stéphane Adsuar (Commencement, Stephan wants to share an Uber with you), un second dédié à des reprises de grands classiques, histoire de balayer toute l'histoire du jazz.
Tout au long du double album, ce qui enchante, en premier, c'est la sonorité chaude et ample du ténor, une patte de velours qui caresse de belles mélodies comme ce Butterflies qui ouvre le premier cédé, ou Smoky Spot qui rappelle l'atmosphère enfumée des jazz clubs d'antan. Mais, sous l'impulsion de la rythmique, le ténor peut adopter des tempos plus vifs, plus enflammés comme sur Mood, New again ou ce Mr J.H., subtil démarcage d'Inner Urge de Joe Henderson, avec une subtile intro de ténor solo.
Damien Varaillon possède une sonorité boisée et profonde, un sens du rythme comme de la mélodie, ce que montre, entre autres, l'unisson parfait entre ténor et contrebasse sur l'intro de Catch it. Stéphane Adsuar fait preuve d'un jeu précis et galvanisateur: tout en délicatesse aux balais (Smoky Spot, Statement), vigoureux aux baguettes (Mood, New again), tout en subtilité aux cymales et petites percussions sur All those things. Un vrai trio complice et interactif. Avec des plages de quatre minutes 08 à dix minutes trente, chacun s'exprime ad libitum.
Le second cédé montre toute la culture jazz de Fred Borey: des origines (Jitterbug Waltz de Fats Waller) aux géants du saxophone (Wayne Shorter avec Mahjong enregistré à l'origine avec la rythmique de Coltrane, Michael Brecker pour The cost of living de Don Grolnick), en passant par de grands classiques, mais pas fatalement les plus joués, comme The single petal of a rose et Black Beauty d'Ellington ou A flower is a lovesome thing de Billy Strayhorn. Ce deuxième disque navigue donc entre superbes ballades au subtil charme mélodique (The single petal of a rose, A flower is a lovesome thing), rythme soutenu (The cost of living) voire virevoltant (Jitterbug Waltz ou Mr Sandman de Pat Ballard).
Du grand jazz qui balaie toutes les époques.
© Claude Loxhay
En partenariat avec