Fiorenzo Bodrato - Travelling without moving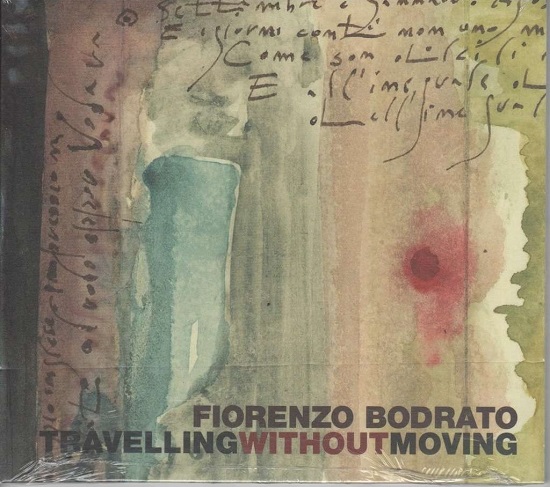 F
CMC Records
L'Italie regorge de musiciens talentueux. Le contrebassiste Fiorenzo Bodrato ne figure peut-être pas parmi les plus connus mais il a à son actif une série d'albums passionnants. Il est le leader du quintet Lokomotiv Kanarone qui a enregistré deux albums, en 2003 et 2008, pour la coopérative CMC, en compagnie de Gianpiero Malfatto (tb) et Andrea Buffa (as,ts): deux albums d'une musique trépidante, proche du groupe italien Nexus, qui ont été chroniqué pour Jazzaround. Il a aussi enregistré "Act to strange" en trio avec le bouillant Carlo Actis Dato (sax, bcl) et Nicola Stranieri (dm) en 2008. En quintet, il a aussi enregistré "Main scream five" en 2009 avec le trompettiste Alberto Mandarini, un des membres du mythique Italian Instabile Orchestra.
Le voici dans un nouveau répertoire, en compagnie de compagnons fidèles: Andrea Buffa (as, ts), Liudas Mockunas (ss, ts), Gianpiero Malfatto (tb), Beppe Caruso (tb, tuba), Maurizio Brunod (un guitariste qui a débuté avec Carlo Actis Dato) et Nicola Stranieri (dm). Pour cet album, le contrebassiste a composé "10 songs + 1" qui illustrent son intérêt pour la littérature et pour la voix. La Luna e i falo est inspiré d'un texte de Cesare Pavese, The enending gift d'un poème de Jorge Luis Borges, Adieu, Adieu d'un poème du XIIIe siècle de Gilles Binchois et Music for a while d'une pièce de John Dryden.
Pour ce voyage dans le temps, Bodrato a convié quatre vocalistes: le Sud-Africain Kholelo Mosala qui a enregistré "Tales of marimba" avec le Soweto Percussive Ensemble, Ciro Buttari, chanteur et acteur sicilien qui a côtoyé notamment des improvisateurs comme Steve Lacy ou Derek Bailey, Sangeetha Anand qui interprète une chanson bengali et Guy Dorego qui intervient en même temps que Ciro Buttari et Sanggetha Anand sur Fango. Six plages sont chantées sur 11. On retrouve la voix rocailleuse de Kholelo Mosala sur La luna, The unending gift, Fango et Music for a while en parfaite communion avec le saxophone soprano (La luna) ou après une belle intro des souffleurs sans rythmique sur Music for a while), Fro est interprété par Ciro Buttari dans un langage imaginaire et Fango voit se croiser les voix de trois vocalistes dans des langues différentes. Bun-Galore débute par un passage de "shells" (Beppe Caruso). Sur Quadripartito, l'alto s'envole sur une sonorité écorchée tandis que Ferjao et Tajin mettent en évidence les trombones. La contrebasse engage de belles intros en duo avec la guitare Ship of fools) et le trombone (Tajin).
Un album qui illustre la vigueur du jazz italien et sa recherche d'originalité.
Claude Loxhay