Fabien Degryse & Joël Rabesolo – Softly… (C. Loxhay)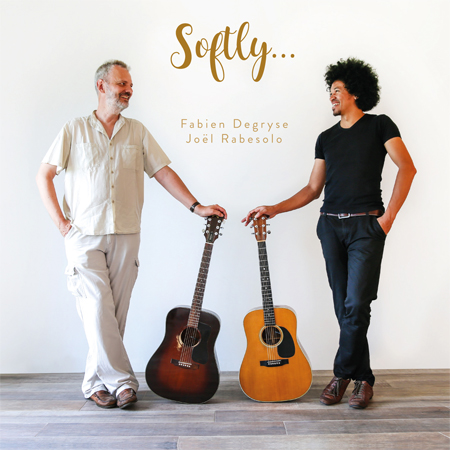 F
Midnight Muse Records
Né en 1960, Fabien Degryse a notamment étudié au mythique Berklee College de Boston. D'abord féru de guitare électrique, il a enregistré plusieurs albums, de Médor Sadness, en 1992, avec Erwin Vann et Eric Legnini à Hommage à René Thomas, en collaboration avec dix guitaristes belges, de Philip Catherine à Pierre Van Dormael, en passant par Jacques Pirotton, Paoli Radoni ou Peter Hertmans. Par la suite, il s'est tourné vers la guitare acoustique, ce qu'il a fait avec le trio L'Ame des Poètes de Pierre Vaiana et Jean-Louis Rassinfosse, au sein duquel il a succédé à Pierre Van Dormael, à partir de l'album Brel; mais aussi au travers de ses albums personnels de The Heart of acoustic guitar à Summertime.
S'il joue en trio avec Bart De Nolf et Bruno Castellucci ou au sein du quartet de Phil Abraham, le voici en duo avec un jeune guitariste natif de Madagascar. Joël Rabesolo, de 22 ans son cadet, s'est d'abord voué, à partir de l'âge de 8 ans, au kabosy, un instrument traditionnel de son pays natal, une sorte de luth à 4 cordes mais, après avoir entendu Eric Clapton, il s'est tourné vers la guitare et, à 17 ans, il a découvert le jazz. Il s'est ainsi inscrit au Conservatoire de Bruxelles où il a eu comme professeur Fabien Degryse. S'l fait partie du trio Malagasy Guitar Masters, il participe aussi au projet Island Jazz du bassiste Linley Marthe.
Au répertoire de ce Softly, trois classiques (Softly as a morning sunrise, Stompin'in the Savoy, Bye bye blackbird), un thème de musique traditionnelle de Madagascar (Pangalana), un emprunt au courant pop malagasy (Voninavoko), trois compostions originales de Fabien Degryse et deux de Rabesolo.
Comme l'annonce la pochette, "the meeting of two worlds, of blues and jazz, of tradition and modernity".
Une vraie rencontre entre la guitare acoustique jazz de l'un et la guitare acoustique aux accents folk de l'autre, un véritable échange entre jazz, folk (Voninavoko, Pangalana), world et blues (Six eight bar blues de Degryse) mais toujours avec la même limpidité de sonorité et une primauté accordée tant à la mélodie (Inty hira inty mampanontany de Rabesolo ou Naufrage en Drôme de Degryse) qu'au groove (Stompin'in theSavoy).
Bref tout le charme de la guitare acoustique.
Après avoir présenté Softly au Marni le 16 novembre, le duo est notamment programmé au Centre Culturel d'Ans-Alleur, le vendredi 5 janvier 2018, dans le cadre de Jazz al'Trappe.
© Claude Loxhay