Ernesto Cervini – Tetrahedron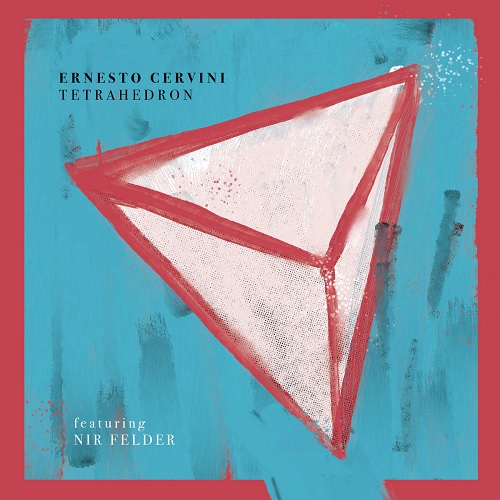 E
Anzic
De Canadese drummer en componist Ernesto Cervini blijft verbazen, of het nu met zijn sextet Turboprop is, als lid van Myriad3, als leider van het trio Tunetown of in de rol van draaischijf bij de Radiohead tribute band Idioteque. Daarnaast is er nog zijn trio Tetrahedron, ondertussen uitgegroeid tot een kwartet. Opvallende rollen zijn weggelegd voor saxofonist Luis Deniz en vooral gitarist Nir Felder. Bassist Rich Brown schreef op zijn beurt een van de sterkste nummers uit het aanbod.
Bij deze Tetrahedron (viervlak) vervullen Ernesto Cervini, Luis Deniz, Nir Felder en Rich Brown de rol van de hoekpunten. Elk van hen vormt zo een onontbeerlijke schakel in de constructie die ze opzetten. Over gans de lijn behouden ze een scherp uitgerekend evenwicht. Zelfs de (korte) solo's passen minutieus in het geheel. Afsluiter 'The Sneaky Two' vat het nog eens mooi samen maar voordien etaleren de vier hun kunnen op meesterlijke wijze.
Zo wijken ze af van een "straight jazz" formaat en verbuigen ze regelmatig vertrouwde wetmatigheden. De standard 'Softly, As In A Morning Sunrise' (opgenomen door onder meer John Coltrane, Abbey Lincoln, Sonny Clark) bouwen ze om tot een mallemolen die rondjes draait in een fusiondecor. De melodieuze intro van bassist Rich Brown zet je wel even op het verkeerde been. Brown zijn 'Forward Motion' is een absolute topper zoals dat dan heet. Felder gaat hier helemaal uit de bocht, deze keer in pure Gilad Hekselman-stijl. Hij trekt de lijn zelfs door naar rock en prog. Drummer, bassist en saxofoon stuwen alles steeds verder en sneller mee voort alsof ze in een deeltjesversneller terechtgekomen zijn. We moeten even denken aan de uitbundige en ongrijpbare gekte van Bushman's Revenge op hun 'Et Han Mot Overklassen'.
Felder (eveneens te horen op het recente 'On Ramp Of Heaven Dreams' van drummer Olivier Le Goas & Reciprocity en op Robin McKelle haar 'Alterations') is niet te beroerd om zich eveneens op het terrein van Pat Metheny te wagen ('Boo Radley') of dat van John Scofield ('Summit Song'). In dit laatste nummer zorgt Deniz dan weer voor extra brandstof. De veelzijdigheid van de groep wordt extra geïllustreerd door bewerkingen van 'Angelicus' (Vince Mendoza) en 'Summit Song' (Bunky Green).
Een kwartet dat op intrigerende wijze de grenzen aftast tussen jazz, rock en prog onder leiding van Ernesto Cervini die zich meer en meer profileert als een "incontournable" uit de jazzscene van Toronto. Als double bill met John Ghost?
© Georges Tonla Briquet





Bezetting:
Ernesto Cervini: drums
Luis Deniz: altsaxofoon
Nir Felder: gitaar
Rich Brown: bas

https://www.ernestocervini.com/