Eclectic Maybe Band – Reflection In A Moebius Ring Mirror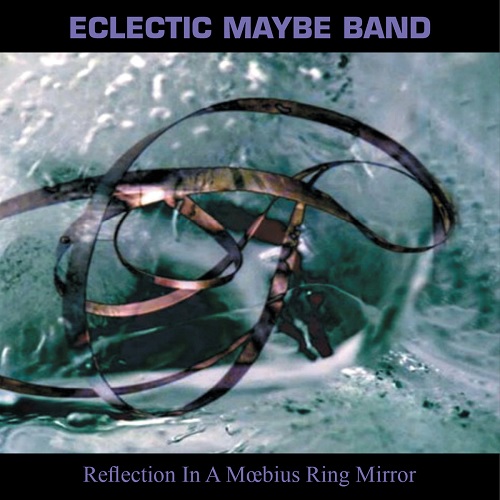 E
Discus Music
Voor de tweede cd van dit collectief hanteerde initiatiefnemer Guy Segers een licht verschillend scenario dan voor het debuut. Deze keer geen knip- en plakwerk na een volledige dag gezamenlijke opname maar veertien individuele inzendingen aan elkaar gelast tot één geheel. Het eindresultaat klinkt als een muzikale Rubiks kubus met verdoken zijvlakken en toegangspoorten naar parallelle werelden waar eerder de wetmatigheden uit 'Hellraiser' gelden. Verder lezen kan leiden tot verslaving.
De introductie bestaat uit wat bizarre geluiden, een funky baslijn, drumbeats die aanleunen bij de ritmetaal van Stéphane Galland, licht golvende saxklanken die lijken op te borrelen vanuit een verlaten kelderverdieping, een gitaar die plots een aantal keer heel snerpend uithaalt en dan vergeten we nog die nerveuze pianist die duidelijk ook deel uitmaakt van dit kleurrijk gezelschap. Een fluitist dikt het etherische gehalte wat aan. Negen minuten zweven in het ijle maar waarbij elke beweging onder totale controle gebeurt. Je zou haast denken dat het om verloren tapes gaat van Miles Davis zijn 'Bitches Brew' sessie.
Elf luiken in totaal waarvan de kortste afklokt op net geen drie minuten en het koninginnenstuk uitgesponnen wordt over veertien minuten. In vijf nummers worden teksten gezongen/gedeclameerd door vocaliste Carla Diratz.
Zowat alle belangrijke referentienamen uit de jazz en progpop van eind jaren zestig begin jaren zeventig mogen bovengehaald worden. Expliciete verwijzingen zijn Pink Floyd (het spacy 'Socie De Gouache') en de ganse Canterbury scene met Soft Machine en Robert Wyatt voorop ('Oncoming Season Wake'). Heel wat passages vallen tevens onder wat je avant-garde ('Liquid Tempo In A Lost Period') en industrial noise ('Day Of The Tsunami') zou kunnen noemen. In 'The Perfume Of The Flying Room' duikt zelfs een achtergrondkoor op gekoppeld aan een trompetsolo die zowel Miles Davis als Don Cherry oproept. Mega theatraal waar Kamasi Washington meteen zou voor tekenen. Het elf minutenlange 'Spreading An Invisible Dream' is het meest spirituele en onheilspellende onderdeel van de saga.
In totaal werkten zeventien muzikanten mee aan dit nieuwe project. Onder hen Roland Binet, Joe Higham, Michel Delville, Andy Kirk, Catherine Smet, Franck Balestracci en Dirk Wachtelaer. De opnamen waren verspreid over verschillende data en studio's. Alle details hierover staan minutieus vermeld op de hoes.
Een verbluffend draaiboek volledig uitgewerkt door mixmaster en bassist Guy Segers samen met zijn jarenlange "partner in crime" Pierre Vervloesem die instond voor de mastering.
© Georges Tonla Briquet

Muzikanten
Carla Diratz: stem
Cathryn Robson: stem
Roland Binet: fluit, piccolo
Martin Archer: sopraan- & altsaxofoon
Joe Higham: sopraan- en tenorsaxofoon, electronics
Dave Newhouse: alt- en tenorsaxofoon, basklarinet
Jean-Pierre Soarez: trompet
Ariane Plumerel: viool
Sigrid Vandenbogaerde: cello
Michel Delville: gitaar
Eric Lemaître: gitaar
Ángel Ontalva: gitaar
Andy Kirk: gitaar, toetsen
Catherine Smet: piano, toetsen
Guy Segers: bas, programming
Franck Balestracci: drums, toetsen
Dirk Wachtelaer: drums

www.discus-music.co.uk
www.facebook.com/EclecticMaybeBand