Don Byron & Aruán Ortiz - Random Dances and (A)tonalities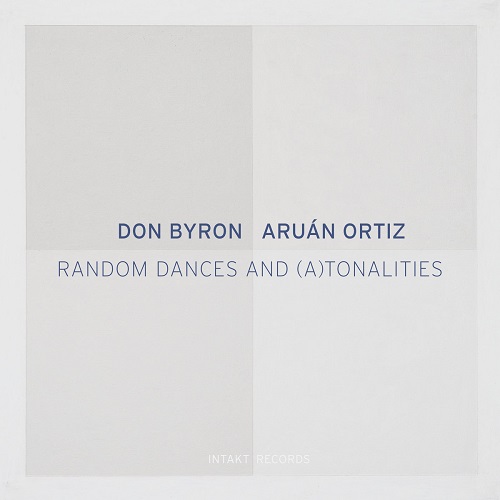 D
Intakt
Muzikale duizendpoot Don Byron vond indertijd op zijn weg de Cubaanse pianist Aruán Ortiz. Ze speelden aanvankelijk samen in grotere bezettingen maar besloten uiteindelijk om ook eens als duo de studio in te trekken. Een zeer goed idee zo blijkt op 'Random Dances and (A)tonalities'.
In het verleden zocht klarinettist en saxofonist Don Byron het gezelschap op van de meest diverse muzikanten, zowel op het podium als in de studio. Onder hen Steve Coleman, Anthony Braxton en Cassandra Wilson. De veelzijdige Cubaanse pianist Aruán Ortiz (met sinds jaren Brooklyn als vaste uitvalsbasis) is een al even enthousiaste avonturier. Zo schitterde hij onlangs nog in BOZAR met Amir ElSaffar zijn ensemble.
De eerste noten op 'Random Dances and (A)tonalities' lijken je uit te nodigen voor een nieuwe aflevering van 'The Twilight Zone'. De repetitieve pianonoten verhogen al snel de spanning terwijl de klarinet de eerste intrige ontplooit. Tijdens de zes minuten van de openingstrack introduceren de twee nog een aantal verhaallijnen zodat je beseft dat er genoeg materiaal zal zijn om drie kwartier geboeid te blijven luisteren.
Aan de hand van Duke Ellington's 'Black And Tan Fantasy' word je heel langzaam binnengeleid in een verlaten balzaal waar geesten uit een vervlogen glorieperiode de dansvloer vullen. Gesofistikeerde blues die voor een licht huiveringwekkend gevoel zorgt. Meteen wordt de meesterlijke combinatie van deze twee heren extra duidelijk. Tien nummers in totaal waarin het duo diverse schemerzones aftast. Nu eens via gebroken en abstracte vormgevingen, dan weer aan de hand van repetitieve patronen. Bachs 'Violin Partita No.1 in B minor, BWV 1002,II.Double' is het sein om Byron even solo in de kijker te plaatsen. Naadloos hierbij aansluitend volgt zijn eigen compositie 'Delphian Nuptials'. 'Joe Btfsplk', eveneens van Byron en vaag gebaseerd op 'Donna Lee', is een uitgelezen kans om te beseffen waarom de twee ook in meer experimentele en avant-gardistische kringen naar waarde geschat worden.
Ortiz zijn 'Arabesques Of A Geometrical Rose (Spring)' is op zijn beurt de passende titel voor een zeven minutenlange oefening in doorgedreven minimalisme. Beiden hebben nog steeds een enorme bewondering voor Geri Allen en tonen dit door haar 'Dolphy's Dance' te hernemen. Ze sluiten af met een intimistische improvisatie onder de gepaste titel 'Impressions On A Golden Theme'. Kamerjazz van twee vrijdenkers met respect voor elkaars ideeën die smeekt om live gehoord te worden in de juiste omstandigheden.



Musici:
Don Byron: klarinet
Aruán Ortiz: piano

www.intaktrec.ch

© Georges Tonla Briquet