Diego Imbert - Enrico Pieranunzi - André Ceccarelli: Tribute to Charlie Haden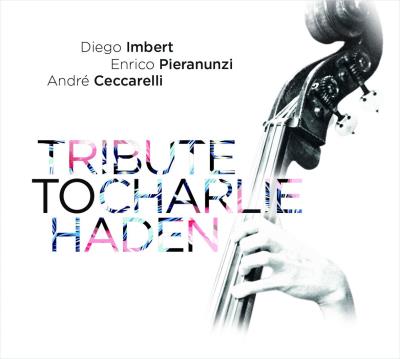 D
Trebim Music/L'Autre Distribution
Le présent projet est le fruit de tout un réseau d'inter-connections.
Né en 1966, Diego Imbert s'est d'abord passionné pour le violon, avant de se tourner vers la basse électrique puis la contrebasse en 1995, poursuivant alors des études au Conservatoire de Paris, sous la férule de Jean-François Jenny-Clark. Après avoir résidé à Nancy, il s'installe à Paris en 2000. On le retrouvera tant au sein du Paris Jazz Big Band, dirigé par le saxophoniste Pierre Bertrand et le trompettiste Nicolas Folmer, qu'avec l'Orchestre Philharmonique de Lorraine. Il a aussi fait partie du trio de Sylvain Beuf, enregistré Serenity avec Alex Tassel et fondé un quartet avec David El Malek.
Avec Dédé Ceccarelli et Enrico Pieranunzi, il forme le trio Ménage à trois en 2016.
Touché par la mort de Charlie Haden dont il loue "le sens de la mélodie et le lyrisme, la recherche de la beauté et la profondeur", le contrebassiste décide de lui dédier ce Tribute.
Et, tout naturellement, son choix se porte d'abord sur Enrico Pieranunzi qui a bien connu Haden et a enregistré quatre albums avec lui: Silence avec Chet Baker et Billy Higgins (Soul Note 1989), First Song en trio avec Higgins (Soul Note 1992), Fellini Jazz avec Kenny Wheeler, Chris Potter et Paul Motian (Cam Jazz) et Special Encounter en trio avec Paul Motian (Cam Jazz 2005).
A la batterie, tout aussi naturellement, André Ceccarelli qui a enregistré Live in Paris avec Enrico Pieranunzi et Hein Van de Geyn et avec qui Imbert a formé Ménage à trois et enregistré Le Coq et la Pendule.
Enfin, comme Ricardo Del Fra pour son album My Chet my song, il a voulu offrir un écrin sonore à son trio. Pour cela, il a fait appel à un ensemble de cordes (deux violons, deux violoncelles) et bois (flûte, hautbois et clarinette de Stéphane Chausse du Paris Jazz Big Band) dont il confie les arrangements à Pierre Bertrand du... Paris Jazz Big Band.
Pour le répertoire, d'abord, évidemment, des compositions de Haden qui illustrent tout son lyrisme mélodique: des thèmes qu'il a joués avec Pieranunzi: First Song, Silence et Nightfall (album Special Encounter). Mais aussi Lennie's Pennies de Tristano, présent sur l'album First Song et In the wee small hours of the morning de David Mann.
Enfin, des compositions originales écrites pour ce Tribute: une mélodie très mélancolique de Pieranunzi simplement intitulée Charlie Haden et puis quatre compositions d'Imbert: Charlie's Waltz, Last Dance in Paris, Faith of the bass et une Liberation Suite en trois mouvements.
L'album fait judicieusement alterner ballades d'une grande sensibilité mélodique, tels Nightfall ou Faith of the bass, et thèmes au tempo appuyé comme Charlie's Waltz, Liberation Suite Part II avec une belle intro de contrebasse ou Lennie's Pennies avec solo de batterie. Certaines plages sont jouées en trio (Liberation Suite Part II, Nightfall, Last Dance in Paris, Lennie's Pennies, In the wee small hours of the morning), les autres sont interprétées avec l'écrin tout en nuances de l'ensemble cordes et bois: tantôt c'est lui qui introduit la mélodie (First Song, Silence), tantôt c'est le piano et la contrebasse à l'unisson (Charlie Haden de Pieranunzi).
Qu'elles soient jouées en trio ou avec l'ensemble de cordes et bois, on retrouve toute la sensibilité lyrique d'Enrico Pieranunzi, la sonorité pleine et ronde de Diego Imbert et le jeu de balais tout en délicatesse d'André Ceccarelli.
Claude Loxhay
Line up:
Diego Imbert: Contrebasse

Enrico Pieranunzi: Piano
André Ceccarelli: Batterie

Pierre Bertrand: Arrangements

Johann Renard, Caroline Bugala: Violons
Gregoire Korniluk, Paul Colomb: Violoncelles

Stephane Chausse: Clarinette
Anne Cecile Cuniot: Flùte
Ariane Bacquet: Hautbois