Das Kapital & Royal Symphonic Wind Orchestra Vooruit - Eisler Explosion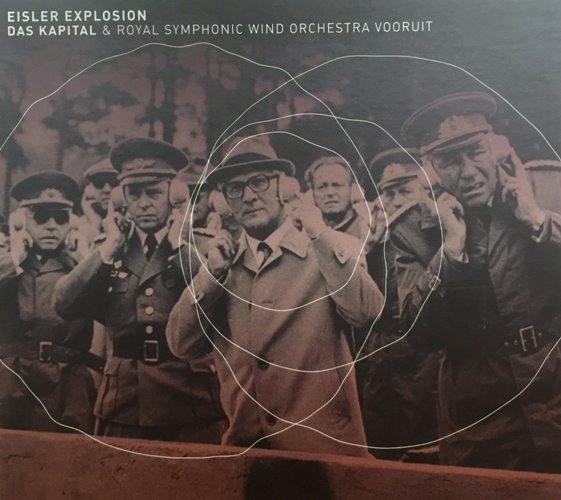 D
Das Kapital records
Construit en 1913 par la coopérative socialiste, l'Art Center Vooruit de Gand est un lieu culturel emblématique de la Belgique. Pour fêter les 100 ans de l'institution, le producteur Wim Wabbes a eu l'idée de demander à quatre compositeurs de revisiter 9 pièces d'Hanns Eisler, compositeur autrichien qui fut l'élève de Schoenberg à Vienne, le collaborateur de Brecht à Berlin (Schweyck in zweiten Weltkrieg, Galileo) et de Chaplin aux Etats-Unis. Il a aussi été compositeur de musique de film, pour Fritz Lang comme Jean Renoir et aussi compositeur de l'hymne national de la RDA.
Pour ce qui est des compositeurs-arrangeurs, le choix s'est porté sur Peter Vermeersch, clarinettiste et fondateur du Flat Earth Society; Tim Garland, saxophoniste (album Return to the fire) et arrangeur américain (The New Crystal Silence de Chick Corea, avec l'orchestre symphonique de Sydney); Stéphane Leach, auteur de nombreuses musiques de scène (notamment pour Olivier Py, par exemple, Soulier de satin de Claudel) et Erik Desimpelaere,  le pianiste du Royal Symphonic Wind Orchestra Vooruit.
Restait à choisir les solistes qui allaient collaborer avec cet orchestre à vent de plus de 70 musiciens (flûtes, hautbois, clarinettes, saxophones, cors, trompettes, trombones, tubas, piano, contrebasse et percussions). Le choix s'est porté spontanément sur les musiciens de Das Kapital, trio qui avait déjà consacré deux albums à des compositions d'Eisler: Ballads & Barricades en 2009, Conflicts & Conclusions en 2011.
On connaît bien les trois membres de Das Kapital: le saxophoniste allemand Daniel Erdmann, le guitariste scandinave Hasse Poulsen et le batteur Edward Perraud dont le dernier album, Kind of red, a été chroniqué dernièrement.
Quel est le résultat de cet ambitieux projet?
D'une part, la musique d'Eisler, à l'image de celle de Kurt Weil, cet autre collaborateur de Brecht (cfr Bilbao Song sur Out of the Cool de Gil Evans) semble, à première vue, se prêter très bien à un "traitement" jazz. D'autre part, les collaborations entre jazzmen et grands orchestres à vent ont donné d'impressionnants résultats: Michel Godard avec le Bagad de Kimperlé (album Kejadenn) ou Pino Minafra, et ses amis Gianluigi Trovesi et Lucilla Galeazzi, avec la Banda di Ruvi di Puglia (Banda and jazz de 1966).
Dès la première écoute, une chose paraît évidente: cet Eisler Explosion s'adresse bien davantage aux amateurs de musique de scène, genre musical bien spécifique, qu'aux amateurs de jazz, même si les arrangements de Peter Vermeersch, sur Bankenlied et Uber den Selbstmord comme certains de Leach (Sud, Ballade) veillent à mettre en valeur le saxophone comme la guitare.
A mon sens, sur les autres plages, c'est avant tout l'orchestre qui est mis en valeur, avec, pour l'amateur de jazz, une certaine lourdeur, un apprêt assez pompeux, loin de la légèreté méditerranéenne des bandas ou de la fantaisie distanciée des bagads bretons.
Mais, à chacun son opinion.

Claude Loxhay