Darrifourcq, Hermia, Ceccaldi – Kaijū Eats Cheeseburgers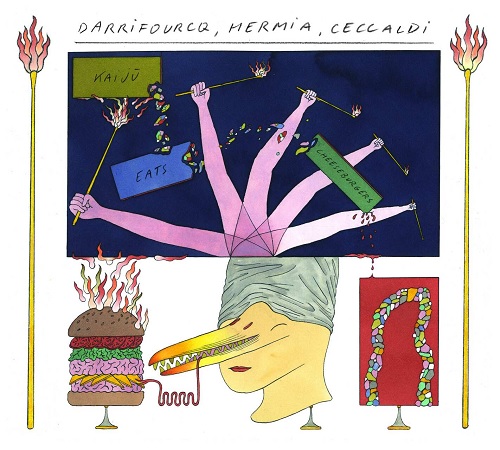 D
Hector/Full Rhizome
Tweede cd van dit trio dat onverminderd tekeergaat op de as gestructureerde compositie-gefundeerde freejazz.
Veel tijd om zich in te leven heeft de luisteraar niet. Ze openen met een big bang waarbij elk individu krachtig uithaalt. Ceccaldi hanteert de strijkstok als een krijger uit Game Of Thrones, de drums van Darrifourcq rollen als donderslagen over het slagveld en Hermia staat onverschrokken in de vuurlinie saxofoon in de hand. Zowat eenzelfde explosieve intro als op 'God At The Casino', alsof het trio wil bewijzen dat motivatie en inzet nog steeds aanwezig zijn. Elk moment van twijfel op dat gebied is dan ook misplaatst.
Aan de hand van drie improvisatiestukken en twee composities leiden de drie vrijheidsstrijders hun volgelingen door een mijnenveld bezaaid met de meest gevaarlijke hindernissen. Onze helden weten echter alle valstrikken te ontwijken. Ze gebruiken elke mogelijke en (on)denkbare list. Een voorbeeld hiervan is het invoeren van onverwachte breekpunten waar plotseling enkel luchtverplaatsingen van de saxofoon waar te nemen zijn vooraleer ze zich weer met volle kracht in de strijd werpen (de elf minutenlange titeltrack die de cd opent en waarin het lijkt of B.O.A.T. het trio Morphine reanimeert). Hun uitgerokken en in detail uitgevoerde aanvalsplan zoals te horen in 'Ma-Rie Antoinette' is een andere illustratie van hun tactische zetten. In 'Bye Bye Charbon' klinkt het alsof ze het oeuvre van Fred Frith bestudeerden en diens avant-gardistische tactieken toepassen. Met de twee composities, 'Disruption' (Hermia) en 'Collapse In Sportswear' (Darrifourcq), nemen ze even afstand van de krijgshaftige taferelen en verplaatsen ze zich naar een andere dimensie waar de wet uit de cultfilm 'Alien' geldt: "In space, no one can hear you scream'.
Op die manier drijven ze de contrasten ten top. Gekoppeld aan de surrealistische titels levert dit weer een ongrijpbaar werkstuk op. De dadaïstische striptekeningen van Baptiste Alchourroun (https://www.alchourroun.fr/) sluiten hierbij naadloos aan. Live was dit trio vroeger reeds een heuse belevenis. Met dit materiaal zal dit ongetwijfeld nog steevast zo zijn. Zet de poorten van de jazzclubs maar wijd open. Met deze drie hun toegewijde devotie wordt elk virusgevaar teruggeschroefd.
© Georges Tonla Briquet



Musici:
Sylvain Darrifourcq: drums, percussive, zither
Manuel Hermia: tenorsaxofoon
Valentin Ceccaldi: cello

Live 2020:
11.09: Flagey (Brussel)
02.10: Chiroux (Luik)

www.manuel-hermia.com