Département d'Education Psychique - Live at Ohm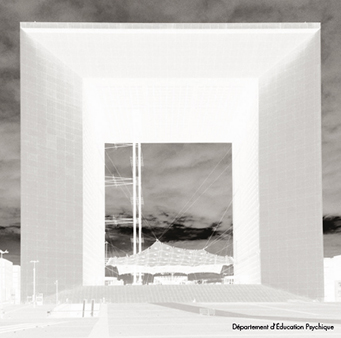 D
Double LP Fou Records
On connaît la passion de Jean-Marc Foussat pour la musique électro-acoustique.
Très souvent, il a invité, chez lui, des musiciens de jazz tentés par ces expériences de musique improvisée, comme Joe Mc Phee ou Ramon Lopez.
Ici, il côtoie deux représentants de la musique électronique. D'une part, Dynamo Dreesen (album Back in the mists of time) et l'énigmatique SVN. Après un album enregistré en juillet 2014, voici un double LP enregistré en Allemagne.
Sur la pochette, une seule indication "Département d'Education Psychique", Fou Records LP 03/04. Pas de nom de musicien, ni de date d'enregistrement.
La démarche ici est de mêler bruits - voix - synthétiseur et autres dispositifs de musique électronique.
Ainsi la face A (19 minutes) s'ouvre sur un bruit de clapotis d'eau sur lequel viennent se superposer un bourdonnement obsédant, des effets de voix puis une musique électro roborative.
La face B (24 minutes) débute de la même manière, avec une musique électro et des effets de percussion dans un climat plus violent.
La face C (13 minutes) s'ouvre sur des croassements auxquels se mêlent des extraits de conversation, avant que la musique électronique ne s'impose.
La face D (19 minutes) débute par un ostinato d'effets de basse sur lequel les sonorités électroniques viennent se greffer.
A réserver donc aux amateurs d'expériences électroniques.
Claude Loxhay

Jean-Marc Foussat Synthi AKS & voix
Dynamo Dreesen electronics
SVN electronics
 
Enregistré le 17 février 2016 à Berlin