Carlo Actis Dato & Enzo Rocco - Noise from the neighbours (Claude Loxhay)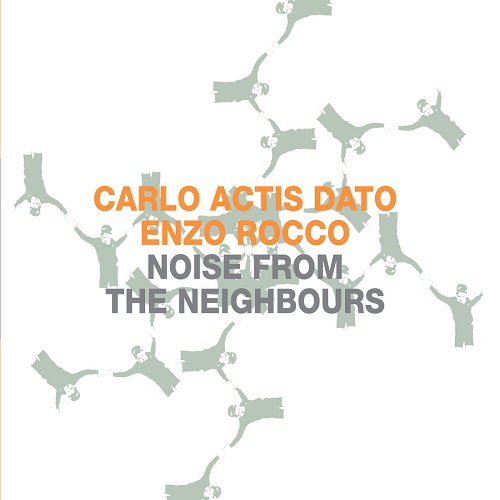 C
Setola Di Maiale Musiche
Comme le dit Enzo: "Vingt ans d'activité de ce duo... et voilà": Noise from the Neighbours.
D'un côté, le guitariste Enzo Rocco qui a notamment joué avec le saxophoniste Tino Tracanna et le pianiste Ricardo Fassi, mais aussi en duo avec le batteur Stefano Bagnoli (album Marché aux puces), au sein du Tubatrio de Giancarlo Schiaffini, avec Ettore Fioravanti à la batterie (Revenge) et a également enregistré London Gigs, série de duos en compagnie de Lol Coxhill (ss), Veryan Weston (p), John Edwards (cb) et Steve Noble (dm).
De l'autre, le survitaminé Carlo Actis Dato (interview dans le Jazz'Halo n°2, version papier, de juillet 1999), polyinstrumentiste aux multiples formations: Art Studio avec Claudio Lodati (g), Quartet avec Piero Ponzo (sax), quintet Actis Band, tentet Actis Furioso, Atipico Trio (trio de sax), Brasserie Trio avec Lauro Rossi (tb) et Alberto Mandarini (tp), Sud Ensemble de Pino Minafra (tp) ou Hereo Nonetto de Giorgio Occhipinti (p) et nombreux solos ou duos au Japon.
Avec ce duo qu'on a pu voir notamment à Oupeye en 1999, Enzo et Carlo ont notamment enregistré Pasodoble et Paella & Norimaki, avec cette frénésie allègre si typique du jazz italien.
Pour ce Noise from the Neughbours, distribué par Setola di Maiale Musiche, label indépendant dédié aux musiques improvisées, les deux joyeux compères proposent douze compositions originales communes, parmi lesquelles Rumbabamba, thème déjà présent
sur Paella & Norimaki.
Douze aventures musicales aux climats colorés: des mélodies dansantes, avec un petit côté goguenard et second degré, avec Carlo tantôt à la clarinette basse (Setubal), tantôt au saxophone ténor rageur (Au grand bal des asperges, La Ronda del Visconte, ou cette Rumbabamba, avec un rythme qui s'accélère progressivement), une petite effusion free (Duro & Puro), un petit air folk blues avec effets bottleneck de la guitare et saxophone ténor (Apolide), une recherche de sonorités étranges avec cordes distendues de la guitare et clarinette basse (Briciole) et, à d'autres moments, une guitare beaucoup plus "classique" sur fond de vrombissements de la clarinette basse (Atomico, Kumano).
Une bouffée d'air frais et de bonne humeur contagieuse.

Claude Loxhay