Bergmann/Moritz Quintet feat. Sandra Hempel - Moodswing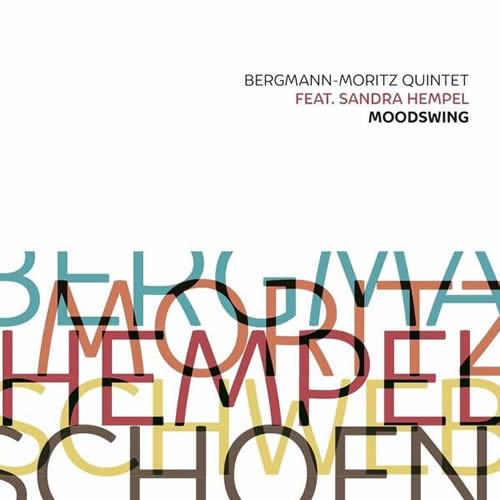 B
fattoria musica records
Man nehme für eine würzige Rezeptur Matthias Bergmann (flügelhorn, trumpet), Raimund Moritz (tenor sax), Sandra Hempel (guitar), Peter Schwebs (bass) und Christian Schoenefeldt (drums) und fertig ist ein Qintett, das sich Stimmungsumschwung versteht.
"South Of The Border" (comp R. Moritz) steht am Anfang des Stimmungsumschwungs und "For The Time Being" (comp Bert Joris) am Ende. Zwischendrin hören wir unter anderem "Almost Never" (comp M. Bergmann), "Stray", "September Still" (comp M. Bergmann) und "Moodswing" (comp R. Moritz).
Mit einem leichten "Latin Swing" kommt "South Of The Border" daher. Zugleich rückt der Klang von Nat und Cannonball Adderley ganz nahe, wenn sich die Bläser im Spiel vereinen. Sehr fein ziseliert ist das Solo, das uns Sandra Hempel präsentiert. Sie scheint leicht und losgelöst himmelwärts zu streben und beinahe die Bodenhaftung aufzugeben. Gleich lang gezogenen transparenten Wolkenschlieren so erscheint Matthias Bergmanns Spiel. Dabei variiert er zwischen weich gezeichnet und in einem Knotengewirr verstrickt. Daran knüpft dann Raimund Moritz an, wenn er seinen Holzbläser zum Schwirren und Schnurren bringt.
Sandra Hempel eröffnet mit ihrem eher lyrisch ausgerichteten Saitenspiel "Almost Never", ehe dann die Bläser ihre Stimmen erheben. Das erscheint dann durchaus vom Modern Jazz geprägt, oder? Auch der Bassist zeigt sich solistisch und lässt die Finger über die tiefen Saiten tanzen, begleitet von Sandra Hempel im Hintergrund. Lauen Sommerwind lässt Matthias Bergmann aufkommen. Das ist nicht unbeherrscht entfesselt, sondern durchaus in Form gegossen, ohne jedoch Starre zum Ausdruck zu bringen. Ganz im Gegenteil, wie auch der Tenorsaxofonist R. Moritz, nimmt uns der Kölner Trompeter Bergmann mit auf seinem fliegenden Klangteppich. So reisen wir mittels klangvoller Thermik dahin.
Eine Note Funk vermittelt "One for Bob", dabei auch in Harmonien und Melodien zeitweilig Erinnerungen an "Mercy, Mercy, Mercy" aufkommen lassend. Und wer ist eigentlich Bob, für den der Song gedacht ist?
Getragen erscheint "September Still", aufgemacht von Matthias Bergmann, in dessen Schlepptau sich dann Raimund Moritz bewegt. Herbstschwere mit Nebelbänken scheint eingefangen zu werden, also kein Indian Summer mit Sonnenschein und bunt verfärbten Ahornblättern in kräftigen Rot- und Gelbfärbungen. Hier und da allerdings blitzt im Spiel von Matthias Bergmann noch eine sommerliche Erinnerung auf. Völlig verspielt zeigt sich Moritz am Tenorsaxofon, während der solistisch in Erscheinung tretende Bassist für das Umbra des Herbstes sorgt. Die Langsamkeit wird beschworen und der nahende Winter ist zu erahnen. Die Tage werden länger und die Dunkelheit erhält die Oberhand, so weitere Impressionen, die beim Zuhören aufkommen können.
"Moodswing" mischt uns auf, holt uns gleichsam aus dem Winterschlaf, ist aufreizend und lebendig. Und auch bei diesem Stück scheinen die Gebrüder Adderley mit ihren musikalischen Ideen nicht weit entfernt zu sein. Schließlich heißt es "For The Time Being". Das ist ein Song, der auf Bert Joris und das BJO zurückgeht, sprich das ein musikalischer Blick zu den westlichen Nachbarn, residiert doch das BJO in Brüssel.
text © ferdinand dupuis-panther

Informationen