Alexandra Grimal – Nāga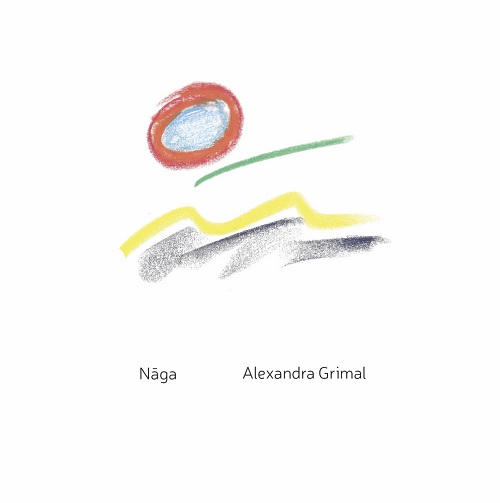 A
OVNI
Met een Frans-Belgische cast schuimt Alexandra Grimal wederom de wazige grenzen af tussen improvisatie en compositie. Het zoveelste hoofdstuk in haar bijwijlen kubistische kosmos waarin getormenteerde zielen pure poëten blijken.
Deze cd verscheen reeds een hele tijd terug maar wordt hier opnieuw belicht om de recente releases van Alexandra Grimal beter te kunnen situeren in de context van een oeuvre waarin alles onlosmakelijk met elkaar verbonden is. Voor 'Nāga' omringde Grimal zich met een heus dreamteam uit het improvisatiemilieu. Oordeel zelf op basis van volgende namen: Lynn Cassiers, Marc Ducret, Nelson Veras, Jozef Dumoulin, Benoît Delbecq en Stéphane Galland.
Luisteren naar 'Nāga' is binnentreden in een fantasierijk waar sensuele zang die vanuit een andere dimensie lijkt te komen, regelmatig in scherp contrast geplaatst wordt met gekartelde en opgebroken vormen waarin al eens stuiterende parlandostukken opduiken. Het is een overrompelend en soms apocalyptisch flirten tussen afgelijnde clusters, electronics en snoeiharde uitvallen. Voor deze laatste effecten zorgt vooral gitarist Ducret die als een slechtvalk boven een bucolisch decor zweeft om opeens met dodelijke precisie neerwaarts te duiken en de hel te laten losbarsten.
In een aantal nummers duiken teksten op met veel betekenende zinsneden als "Don't speak, mumble the words unwritten" en "Nothing changed with time, it's all schemes in our mind" ('Inti') of nog "The delicate beauty that hangs around imperfection" ('Noun') en "Shape a man, give him wings, make him think but never make him fly" ('Perseus'). Dit alles gegoten in verbogen mallen. Het zet een mens aan het denken. En toch is 'Nāga' geen puur cerebrale stijloefening enkel bestemd voor intellecto's. De engelenstem van Lynn Cassiers zorgt voor een poëtisch omfloerst cocon, zij het getekend door een ondraaglijke lichtheid van het bestaan in deze wereld. De combinatie met de uitgedokterde patronen op Fender Rhodes door Dumoulin versterken op magisch-realistische wijze deze stemming. Zo draagt elke muzikant met eigen bagage bij tot het uitvergroten van de sfeerscheppingen.
Kamermuziek waarbij disruptieve passages afwisselen met muzikale gedichten en waar noten ronddwarrelen als afbrokkelende stenen van een beschermende omheiningsmuur die beetje bij beetje vergaat met het traag voortschrijden van de tijd. Groezelig en ontregelend maar tevens heel sentimenteel. Toch nog even vermelden dat Nāga een zevenkoppig creatuur is dat Boeddha beschermt. En laat de onderhavige groep van deze cd nu net een septet zijn.
© Georges Tonla Briquet



Musici:
Alexandra Grimal: tenor-, sopraan- en sopranino saxofoon, stem
Lynn Cassiers: stem, electronics
Marc Ducret: gitaar, stem
Nelson Veras: gitaar
Jozef Dumoulin: Fender Rhodes, electronics
Benoît Delbecq: piano
Stéphane Galland: drums

https://www.alexandragrimal.com/en/Leader/naga_2