Alban Darche & L'Orphicube – The Atomic Flonflons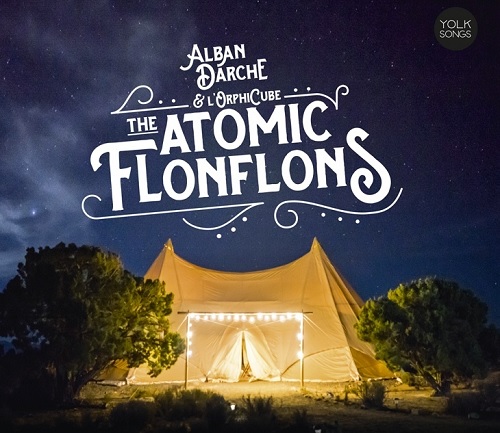 A
Yolk
Met 'The Atomic Flonflons' levert de Franse saxofonist Alban Darche een wel heel erg buitensporig werkstuk af. Een luisterspektakel dat laveert tussen musette, swing, cabaret en bizarre vormen van jazz.
Zelf omschrijft hij het als de soundtrack van het leven en de verbeelding. Een sonische blik in het geheugen alsmede een spelen met de dikwijls vervagende grens tussen herinnering en het werkelijk gebeurde.
Sopraansaxofoon en accordeon openen gezamenlijk de dans. Al snel krijgen ze het gezelschap van zangeres Chloé Cailleton met in haar sporen andere muzikanten die zich ingetogen opstellen als haar gevolg. Op die manier worden de personages ten tonele gevoerd en kan het spektakel beginnen.
De hoes met de verlichte circustent laat het enigszins vermoeden. Alban Darche nodigt het publiek uit tot een heuse muziektheatervoorstelling. 'Jungle' geeft aanleiding tot een feestje op het ritme van twintiger jaren swing, het tijdperk van F.Scott Fitzgerald's 'The Great Gatsby'. Het klinkt bovendien of Cab Calloway de speciale gast van de avond is. Naadloos hierbij aansluitend is 'Ragtime' in pure Broadway musicaltraditie.
Nog meer nostalgie met 'Rhythm Song', zij het nu met een Latijns-Amerikaans tintje. Poëzie is er eveneens via Paul Verlaine zijn 'L'Oiseau Qu'On Voit Chante Sa Plainte' (een uittreksel uit zijn 'Le Ciel Est Par Dessus Le Toit'. Met dergelijk repertoire kon het haast niet anders of er zouden expliciete parallellen opduiken met de werelden van Kurt Weill en Bertolt Brecht. Dat gebeurt uiteindelijk in 'La Paloma'. 'Java' is het moment voor een knipoog naar het filmuniversum van Nino Rota.
Vergis je niet, elk nummer is gedrenkt in een kunstzinnig sfeertje met de nodige absurde accenten. Meest extreme voorbeeld is het kubistisch afgelijnde 'I'll Be Seeing You'. Dit alles maakt van 'The Atomic Flonflons' een heel apart luisterspel ergens tussen de film 'Hellzapoppin'' (1941) en wat Rêve D'Élephant doet in.



MUSICI:
Alban Darche: altsaxofoon, sopraansaxofoon, baritonsaxofoon
Chloé Cailleton: zang
Nathalie Darche: piano
Didier Ithursarry: accordeon
Stéphane Payen: altsaxofoon
Olivier Laisney: trompet
Christophe Lavergne: drums
Sébastien Boisseau: contrabas

© Georges Tonla Briquet