Aimée Nolte – Looking For The Answers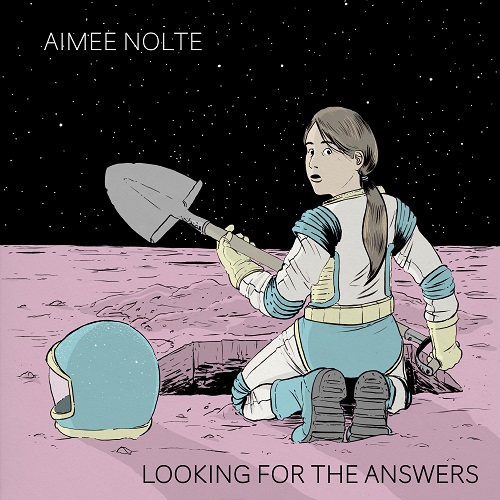 A
Self produced
Nunmehr liegt mit dem aktuellen Album das dritte Album der Pianistin, Komponistin und Sängerin Aimee Nolte vor. Nolte singt nicht nur auf diesem Album, sondern spielt außerdem Piano, Orgel und Synth Bass. 850
Die in Los Angeles beheimatete Aimee Nolte, deren Songtexte ohne Zweifel im Fokus stehen, lässt den übrigen Musikern ihrer Band auch Raum für sich frei entfaltendes Spiel, so u. a. auch dem Gitarristen im Titelsong "Looking for the Answers". Nolte wird begleitet vom Bassisten  BRUCE LETT,  dem Gitarristen MIKE SCOTT, den "Windinstrumentalisten" JOHN REILLY und DOUG WEBB sowie dem Drummer JAMES YOSHIZAWA. Bassist JOHN CLAYTON ist bei einem der Songs zu hören, nämlich dem Jazzklassiker "Bye Bye Blackbird" im Duett mit Aimee Nolte. Hervorgehoben werden muss neben dem Scat Vocals auch die "Zweitstimme" in ausgeprägter Tieftönigkeit, teilweise auch sehr rhythmisch angelegt, stets aber die Stimme von Nolte fein umspielend, die ihrer Stimmlage treu bleibt und nicht versucht, in die Tiefen des Basses zu driften. Scat Vocals entwickeln sich bei diesem Stück organisch aus der Lyrik. Es ist sozusagen ein Fluss vom Text ins Lautmalerischen. Und der Bass folgt Nolte dabei sensibel auf Schritt und Tritt!
Aimee Nolte spielt seit dem Alter von drei Jahren Piano. Zehn Jahre lang studierte sie klassische Musik, um nach entsprechenden Studienjahren einen Abschluss in Jazz-Piano an der Brigham Young University  zu erhalten. In ihrer Musik hat sie sich zum Teil von Hermeto Pascoal und Master Guinga inspirieren lassen, so bei dem sehr balladenhaft angelegten "Save Me One Last Time". Auch einen veritablen Bossa Nova beinhaltet das Album, nämlich "Falling Snow"

"All Too Soon" (comp. Duke Ellington) ist ein Standard, dem Nolte zur Gitarrenbegleitung ein einzigartiges Gewand anlegt. Bei diesem Song mit Verszeilen wie "All too soon I knew the strange delights / That only you in love could bring / And as I reached the heights The bottom fell from everything /  ..." können die Zuhörer ein Duett mit dem fein ziselierten Spiel des Gitarristen Mike Scott genießen. Dabei ergänzen sich die sinnliche, leicht rauchige Stimme und das Saiteninstrument überaus harmonisch. Wenn Nolte nicht singt, dann vereinen sich die Melodielinien des Pianos mit der rhythmischen Schraffur der Gitarre. Das enge Zusammenspiel mit Mike Scott findet in "So In Love" eine stimmige Fortsetzung. Cole Porter war einst mit "Strange dear, but true dear / When I'm close to you, dear / The stars fill the sky / So in love with you am I ..." zu hören. Nun verpasst Mike Scott dem Song durch seine Begleitung ein wenig "Latin Fever".



"I Gotta Get" bringt uns ein wenig Salsa nahe, oder? Sehr ausgereift und wunderbar integriert ist in den Vortrag das ausschweifende Basssolo. Zudem unterstreicht Aimee Nolte bei diesem Song, dass sie auch bisweilen lasziv daherkommende Scat Vocals beherrscht. So wird die Stimme zu einem Teil der Instrumentierung und fokussiert sich nicht ausschließlich auf den Text. Dieser erhält Zeilen wie "It's time for a party … Transportation is ready ... It's time for a count down. ... Meet me at the station … We're not in a hurry ... Destination unknown ..." Sehr stark ausgelegt ist auch das Drumming, das uns zu "Shake your bones" auffordert.

Mit "For a While" endet das aktuelle Album. Mit getragenen, beinahe melancholisch anmutenden Klavierpassagen eröffnet dieses Stück. Ein Schleier von Traurigkeit scheint hier musikalisch umgesetzt zu werden. Abschied? Sehnsucht? Verzicht? - all das kann man dem solistischen Tastenspiel entnehmen.

Text © ferdinand dupuis-panther – Der Text ist nicht public commons!


Informationen
https://aimeenolte.com
https://www.youtube.com/channel/UCZIB_p5AgVVdxgkYWHeUy-Q