Aaron Shragge & Ben Monder – This World Of Dew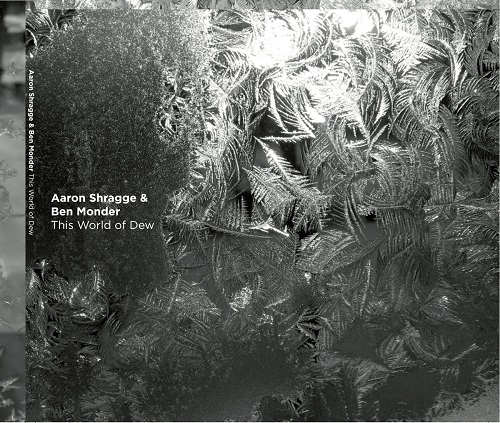 A
Human Resource Records
Zowel de Canadese trompettist Aaron Shragge als gitarist Ben Monder maken al jaren deel uit van de New Yorkse improvisatiescene en hebben elk hun eigen succesvolle projecten. Voor hun derde samenwerking komen ze naar voor als poëten van de stilte.
Shragge, die alle materiaal componeerde waaronder een heuse suite, haalde zijn inspiratie voor 'This World Of Dew' bij auteurs als Kobayashi Issa, Matsuo Basho, Li Po en Nishiyama Soin. Het zen-gehalte ligt dan ook heel hoog. Alles glijdt voorbij in slow motion. De klankkleuren worden hoofdzakelijk bepaald door zijn spel op de "custom made" Dragon Mouth trompet en de shakuhachi (Japanse fluit). Dat hij zich ook liet beïnvloeden door teksten van Bukowski komt minder expliciet naar voor, althans voor wie de auteur enkel vereenzelvigt met extreme situaties aan de afgrond van de maatschappij.
De introductie voor het begin van de suite zit al meteen boordevol verhalende klankscheppingen. De warme tonen van de shakuhachi in combinatie met het getokkel van gitaarsnaren roepen beelden op van het ochtendgloren in een verlaten natuurstreek waar de mens nog geen verwoestende stappen zette. Je voelt ook een licht dreigende ondertoon, een prangend gevoel in afwachting dat een zengende hitte alles verlamt. Die sfeer wordt versterkt bij de eigenlijke aanvang van het grote verhaal dat op deze cd uitgevouwen wordt. Er volgt een aaneenrijgen van trompetglissando's waarbij Shragge lijkt uit te testen in hoeverre je een noot kan rekken. Verderop zijn het dan weer circulaire fluitpatronen die de verhaallijn verder uittekenen. Daartussen weeft Monder een fijnzinnig web met zijn uiterst intimistische gitaarklanken.
'This World Of Dew' kan je beluisteren als een minimalistische vorm van ambient maar dan met heel veel dieptegang. Een meditatieve stijloefening die vooral een gevoel van eenzaamheid maar ook rust uitstraalt. De hypnotiserende leegte leidt tot een verslavend effect. In het verlengde van wat Ruben Machtelinckx en vvolk bij ons doen. Een opname die de tijd stil zet als het ware. Ideale gelegenheid om ook nog eens opnieuw te luisteren naar de cultklassieker 'Call Of The Valley' uit 1969.





Line up:

Aaron Shragge: Dragon Mouth trompet, flugelhorn, shakuhachi
Ben Monder: gitaar


© Georges Tonla Briquet