RESONARE FESTIVAL 2016
-  an experimental & improvised music festival  -
 
this November 4, 5 & 6 at HAEKEM - rue de Laeken 66 Lakense straat – 1000 Brussels
(metro De Brouckère)

Canaries on the Pole are :
from Brussels Jacques Foschia & Mike Goyvaerts, from Wuppertal Christoph Irmer
and from Cologne Georg Wissel.
 
The program of this year's festival is build around the Belgium-German quartet CANARIES ON THE POLE which celebrates its 15th birthday this November.
The first two nights each player of the quartet performs a set with musicians of his choice and to close the evening there's a tutti jam.
On Sunday the quartet encounters JEAN DEMEY on double bass and special guests BART MARIS on trumpet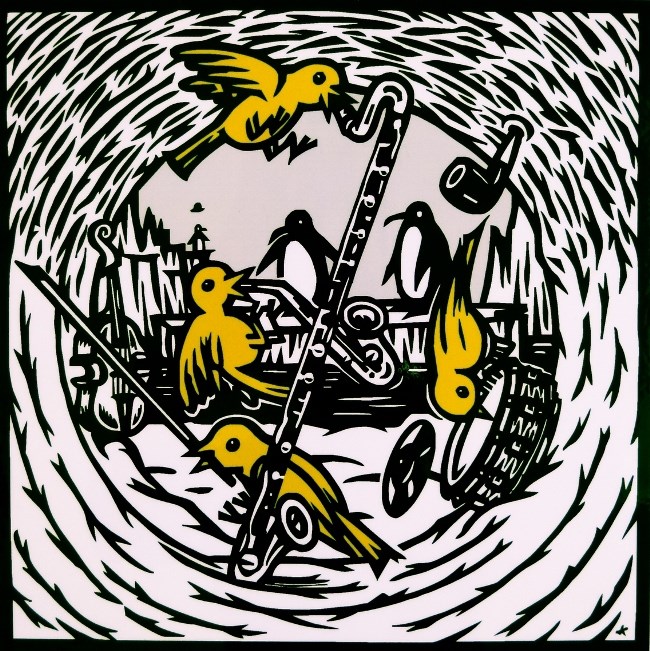 Canaries on the Pole, artwork by Kris Vanderstraeten
 
 
> Friday 4 : doors 7pm – music 8 pm
? Christoph Irmer violin   Adelheid Sieuw flute   Willy Van Buggenhout synthi
?  Jacques Foschia clarinets   Audrey Lauro alto sax   Pak Yan Lau prepared piano
?  Canaries on the Pole encounter the musicians announced on the evening     

 
> Saturday 5 : doors 7pm – music 8 pm
? Mike Goyvaerts percussion   José Bedeur cello   Matthieu Safatly  cello  
      Jean-Michel Van Schouwburg  voice
? Georg Wissel clarinet, sax   Johan Vandermaelen surround sounds  
? Tutti Canaries     
            
                                        
> Sunday 6 : doors 3pm – music 4pm
? Canaries on the Pole (the quartet)
? Canaries on the Pole invites Jean Demey double bass & special guest Bart Maris
      trumpet – this musical centipede performs not only with Belgian leading improvisers
     but also contributes to many other bands and projects as well as sideman as leader
     in different musical styles, from impro to rock. He also performs solo.
 
 
Entrance : one day 6 € / 2 days 10 € / festival 14 €